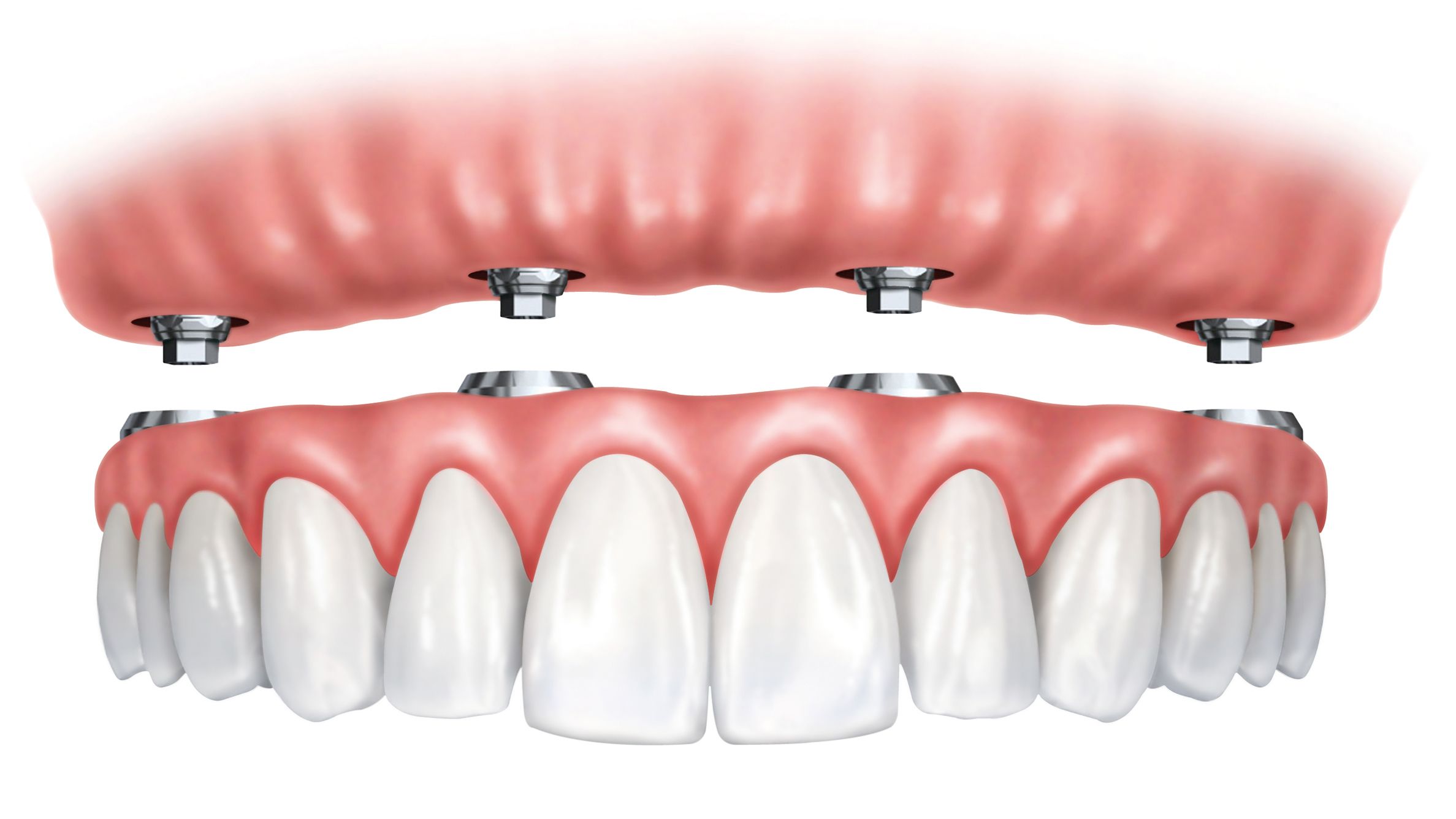 Dentures are one of the oldest dental treatment options still in use. The ancient Romans, for example, crafted dentures out of human and animal teeth. While the technology has advanced since then, traditional dentures often fall short when it comes to replacing the feel and functionality of natural teeth.
This is because removable dentures rest on the gums, which allows the device to wiggle or slide out of place. Implant-supported dentures are secured in place with dental implants.
Dr. Thomas Tang restores dental implants at our Brookfield, WI office. If you are looking for a permanent solution to missing teeth, you may be a good candidate for implant-supported dentures.
How Do Implant-supported Prosthetics Work?
During your initial consultation, Dr. Tang will examine your teeth, gums, and jawbone to assess your oral health and jawbone density. If implant-supported dentures are a good option for you, we will refer you to an oral surgeon for the first step of the implant procedure.
During implant surgery, the surgeon will place the titanium screws into the jaw. The number and location of implants will depend on how many teeth are missing and where.
After surgery, it will take three to six months for the implants to integrate with the surrounding jawbone. This healing period is known as osseointegration.
After the initial surgery, a temporary denture may be used. Within a few months after the implants are inserted, a custom-made set of permanent teeth will replace the temporary dentures.
Am I a Candidate for Implant-supported Dentures?
Patients who stand to benefit from this restorative dental procedure are in good oral health and missing several teeth. Beyond that, a good candidate for implant-supported dentures is:
Looking for an alternative to traditional dentures: Not surprisingly, many users of removable dentures are unhappy with the loss of chewing function that is often associated with these traditional appliances.
Have sufficient jawbone mass: To support the dental implants and dentures, patients should have adequate bone mass. If not, they may need to undergo a bone grafting procedure.
Experiencing difficulty eating or speaking: While traditional dentures are prone to shifting, implant-supported dentures provide great stability that can aid in improving chewing function and speech.
Prevent bone loss: Traditional dentures do not stimulate jawbone growth. Over several years or decades, use of removable dentures can lead to an unwanted, caved-in look. Implant-supported dentures prevent jawbone loss by stimulating surrounding bone tissue.
Find Out if Implant-supported Dentures Are Right for You
Implant-supported dentures are a long-term solution for tooth loss that restores the feel and function of the natural teeth. To find out if you are a good candidate for this restorative procedure, contact our practice to set up an appointment.
Dr. Tang is the only American Academy of Cosmetic Dentistry accredited cosmetic dentist in the Greater Milwaukee Area. To learn more about dental implants, contact our office online or call (262) 821-1000.