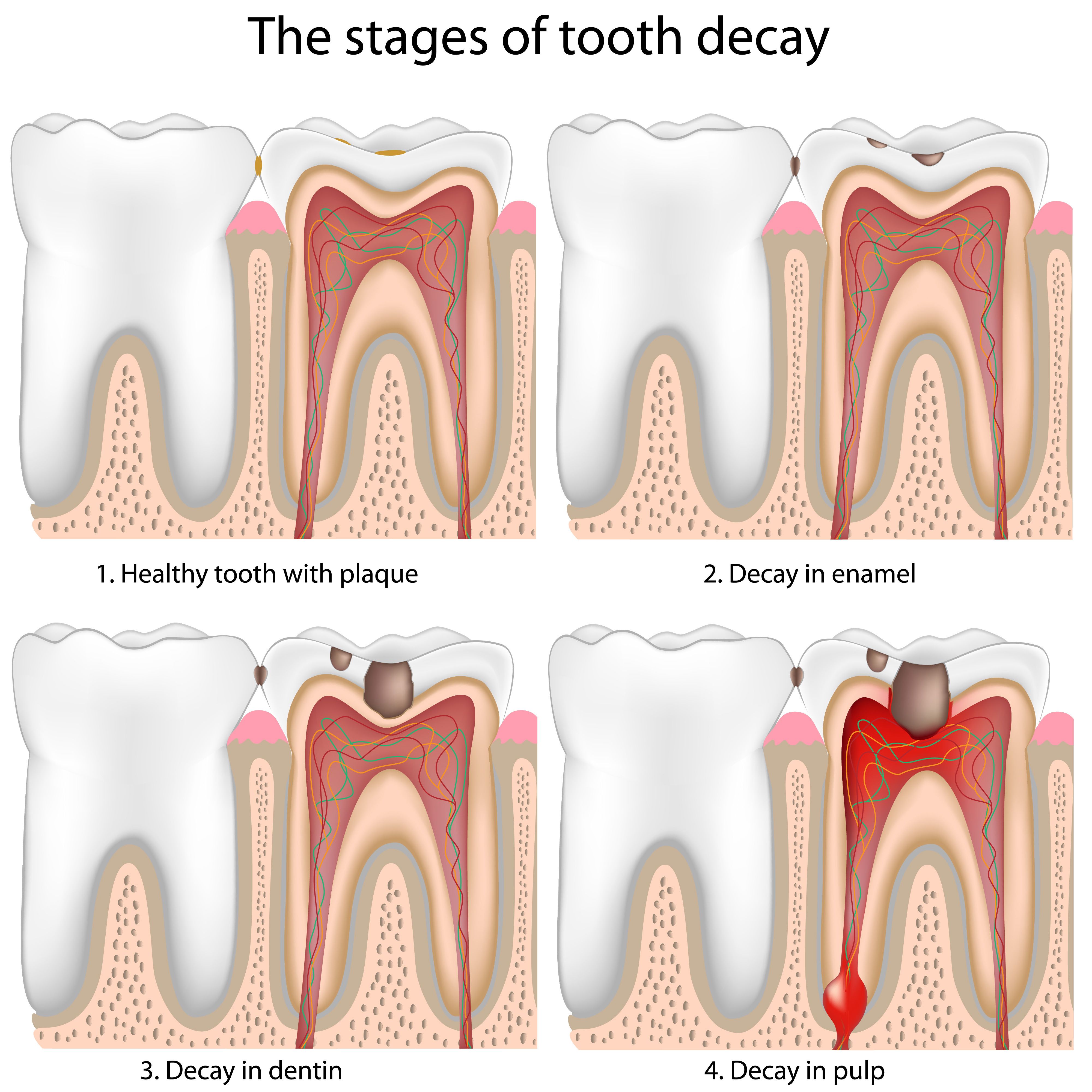 Tooth decay doesn't happen all at once. It comes in stages, with minor cavities eventually developing into severe tooth decay and worse. As you might have guessed, it's always best to treat a cavity sooner rather than later.
The team at Brookfield Family Dentistry believes that proper patient education is a cornerstone of effective general dentistry. With that in mind, let's cover the different stages of tooth decay and what treatments may be helpful at each stage.
Stage One: Formation of an Initial Lesion
The first sign of tooth decay isn't a cavity. Instead, it an initial lesion that forms on the enamel of the tooth. This lesion on the tooth enamel doesn't show up as tooth decay in dental x-rays, but it is a sign of tooth deminerlization. Typically the lesion appears white or brown in color.
At this very early stage of tooth decay, it's possible for the initial lesion to reversed and further progression into a cavity to be prevented. Dentists may use fluoride treatments, dental sealants, and other cleaning methods to keep this under control. Patients are encouraged to improve their oral hygiene practices help with the professional in-office care.
Stage Two: Enamel Decay
Enamel decay is the official onset of a cavity. When enamel decay occurs, this means that oral bacteria has caused damage to the topmost layer of a tooth. The enamel structure is compromised, resulting in a cavity.
For enamel decay, the most common treatment option is a traditional dental filling. These come in metal or tooth-colored forms. The ideal type of filling to use will depend on the extent of the tooth decay and the tooth that has been affected.
Stage Three: Dentin Decay
Beneath the tooth enamel is a substance known as dentin. Dentin is strong, but it is also porous. When tooth decay affects the dentin, it can spread quickly and lead to a number of health issues. The most common sign of dentin decay is tooth sensitivity, particularly when having hot and cold food items or beverages.
To treat dentin decay, more substantial dental restorations are used. This often means an inlay, an onlay, or a dental crown. All of these restorations also com in metal and tooth-colored forms. Like minor cavities, the ideal option will depend on the extent of the tooth decay and the affected tooth.
Stage Four: Infection of Dental Pulp
Inside of every tooth is a chamber filled with soft tissue known as dental pulp. The dental pulp consists of nerves, blood vessels, and connective tissue essential for the initial formation of the tooth. When oral bacteria reaches the dental pulp, it causes a root canal infection. These can be very painful, and can cause more severe dental problems if the issue is not treated in a timely fashion.
To treat a root canal infection, endodontic therapy is performed. This involves the removal of the infected dental pulp, sterilization of the pulp chamber, filling the chamber with an inert material, and capping the tooth with a dental crown.
Stage Five: Formation of an Abscess
If tooth decay and pulp infection go untreated, it can result in a dental abscess. An abscess is an accumulation of pus that will form around the infected tooth or the gumline around the tooth. Should this abscess rupture, it can lead to severe problems that impact your general health and wellness.
To treat a dental abscess, it's important to seek professional medical attention. The dental abscess will be carefully drained, followed by the use of antibiotics or antiseptic medications to keep further potential infections under control.
Learn More About Tooth Decay
To learn more about treating tooth decay and helping you have the healthiest smile possible, be sure to contact Brookfield Family Dentistry today. Our team will help you smile with renewed confidence ensure lasting dental wellness for years to come.