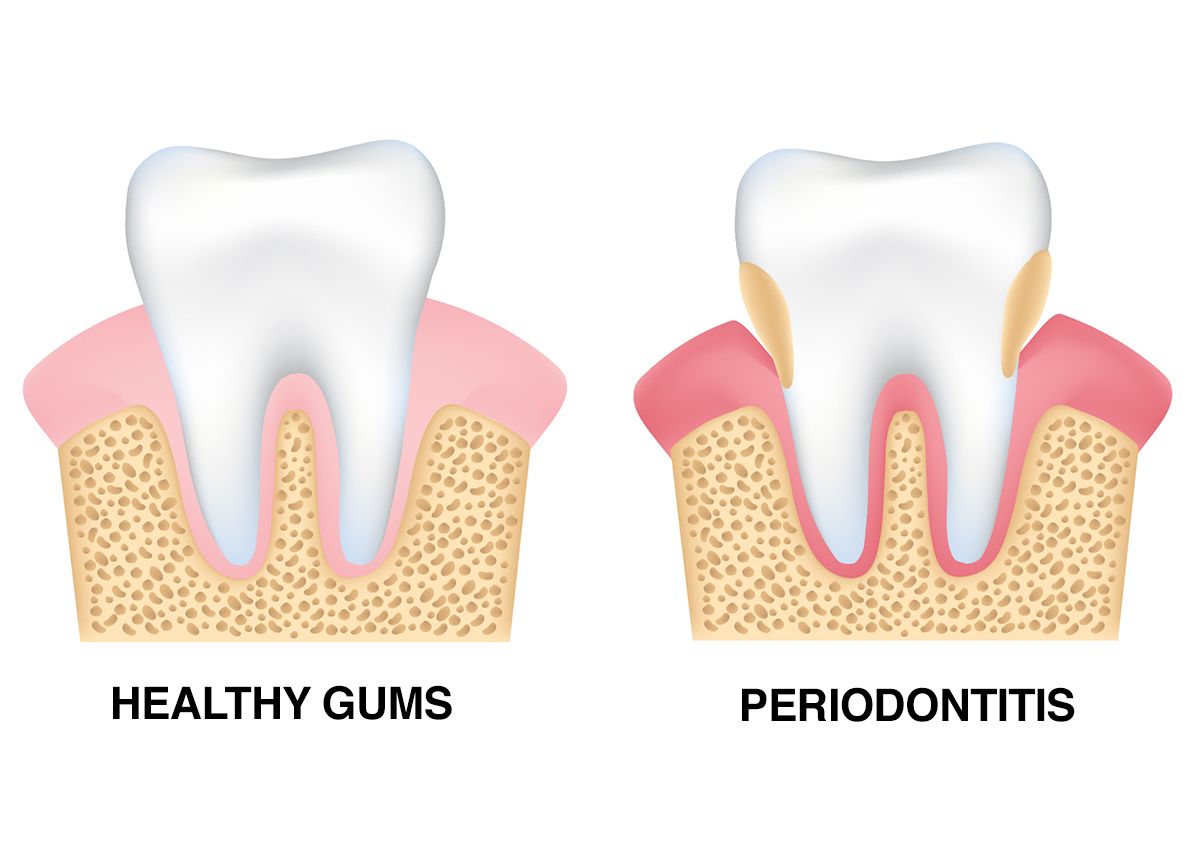 In most cases, tooth loss is a preventable condition. This is particularly true when tooth loss is caused by gum disease. Gum disease is an oral health condition that results when plaque, tartar, and bacteria accumulate at the gum line. Patients can prevent plaque and tartar build-up by exercising good dental habits at home and attending dental exams and cleanings every six months. This combination of a good at-home oral care routine and professional general dentistry services can reduce the risk of gum disease and many other dental problems. At Brookfield Family Dentistry, the practice of Thomas Tang, DDS, we offer a range of effective treatments to prevent gum disease and tooth loss. Contact our Brookfield, WI practice today to learn more about our preventative and restorative services.
How Gum Disease Results in Tooth Loss
In order to help patients understand how gum disease causes tooth loss, we explain to them how gum disease progresses.
In its earliest stage, gingivitis, the gums become puffy, red, tender, and bleed easily. At this point, the condition is easy to treat; gingivitis can be controlled with a regular or deep cleaning, along with an improved home care routine. However, when gum disease progresses into periodontitis, more serious dental complications begin to occur.
Periodontal Pockets
As plaque, tartar, and bacteria accumulate, they reach farther down the gum line, creating pockets of space between the teeth and gums. If gum disease goes untreated, these periodontal pockets continue to grow in size and the gums detach from the teeth. Eventually, the teeth become loose and may fall out on their own or require extraction.
Bone Loss
The bacterial infection that damages the soft tissues of the mouth can also damage the hard tissues, including the alveolar bone, which supports the teeth. If periodontitis goes untreated, the infection will reach the bone, causing it to degenerate and loosen its hold on the teeth.
Tooth Decay
As dental bacteria reach below the gum line, tooth decay can affect the roots of the tooth. Root cavities can grow so large that there is no longer enough healthy tooth material left to support the crown of the tooth. In addition, the decay can reach the root canals of the tooth, causing further damage.
Treating Gum Disease to Prevent Tooth Loss
If periodontitis is treated early enough, tooth loss can be prevented. Dr Tang performs root planing and scaling, a deep cleaning treatment, to remove plaque, tartar, and bacteria below the gum line. He will use special tools to reach below the gum line, scraping debris and flushing it away with high-pressure water that contains a baking soda paste. Then he will smooth the roots of the tooth to discourage plaque from accumulating on the tooth roots.
Some patients may require more intensive treatment for gum disease. If patients have developed large periodontal pockets, we may refer them to a periodontist who can perform gum surgery. If bone loss has occurred, an oral surgeon can perform a bone graft. In some cases, tooth extraction is necessary. If you lose a tooth to gum disease, Dr. Tang can perform dental implant surgery to restore your smile.
Contact Brookfield Family Dentistry to schedule an appointment.